A Composite Decking Green Story
---
You love the outdoors.
And your beautiful new deck will be a living space that integrates your home seamlessly with the natural environment.

We share this same passion.
And when you're choosing your decking, we want you to know that you're choosing a product that is both good for your home and for the environment.
You're usually asked to choose between wood or plastic. Natural or synthetic. Paper or plastic.
Our sustainability story starts with this unlikely match—all the best qualities of recycled wood, combined with the long-lasting resilience of recycled plastic. The blending of these two materials is the reason why our products last, and why they're sustainable from start to finish
About half of what's in our decking comes from recycled wood—sawdust and leftover material that would otherwise be discarded. That's the beautiful thing. Even though they look like wood, we aren't cutting down trees to make our boards.

Think about this: the average wood deck uses about 11 Southern Yellow Pine trees. With Fiberon, we're doing the opposite. We're saving more than 1 Million trees from being cut down every year.

That's about 15,000 football fields worth of healthy forest saved each year.

We think trees should give our backyard's shade, not flooring.

The other half of the core of our deck boards come from recycled plastic. Think grocery bags and recycled packaging material. A typical American family uses around 1,500 plastic bags each year. And each gets used for about 12 minutes. Then you'll likely find it in a landfill, or in the ocean, where it could last up to 1,000 years.

But it's this same resistance to decomposing that helps make Fiberon Decking last a really long time. So we recycle those same plastic bags, incorporating 2,000 of them into a single deck board.

By year's end, we average 100 million pounds of recycled plastic put to good use. That's the weight of two full cruise ships. Let's use plastic for things we want to keep for a while, not just 12 minutes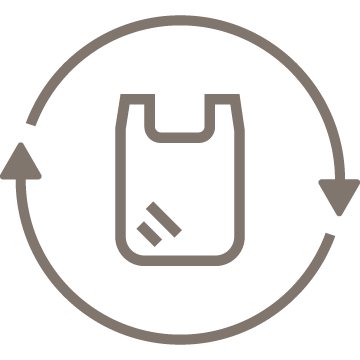 Making Fiberon Composite decking requires a lot of water. The good news is, we reuse almost all of it. We keep a water reservoir about the size of a standard swimming pool at each plant. And we use it. And reuse it. And reuse it again.

Our closed-loop system recycles the same water every day. With it, we prevent billions of gallons of water from ending up in the waste stream—enough to fill up 5,300 Olympic-size swimming pools. Water is precious.

Let's save every drop.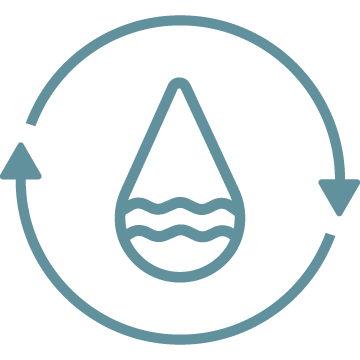 When it comes to food, humans easily create waste, even when we don't intend to. Think of all the rotten produce and unidentified leftovers from one week, let alone a lifetime. Now imagine if you could find a way to reuse all that waste before it hits the trash can, leaving the weight of a small bunch of bananas as your food waste for the entire year.

That's what we do at our plants –metaphorically, of course. We reuse 98.5% of the waste from our manufacturing process – from misfit boards to router clippings. Every day. It's one way we're keeping our footprint small when it comes to manufacturing.
Beautiful outdoor living built for life
Fiberon Recycling Center